Check back for a full timetable of events taking place in Co. Longford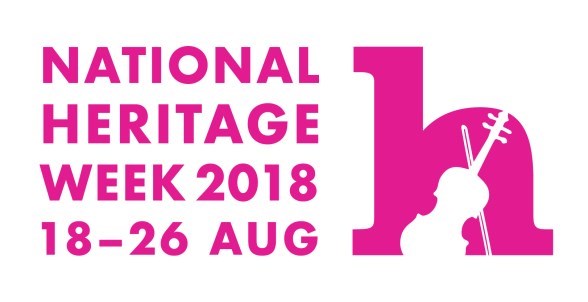 We have some fantastic events planned to mark European Year of Cultural Heritage #EYCH2018 #EuropeforCulture under the theme #MakeAConnection. These include marking the centenary of the final year of WW1 and the first year of the reinvigorated Granard Harp Festival. 
Celebrate Heritage Week 2017 at Corlea 
The Corlea Trackway Visitor Centre, located outside the village of Kenagh, have announced their line up to celebrate Heritage Week 2017, from the 19 to the 17 August 2017.
There will be a wide variety of events taking place for the young and young-at-heart.  
Children can explore the magic of Ireland's past and natural heritage, with art and nature workshops inspired by Midir & Etain, and much more. There is plenty for adults too, including talks, gatherings of local performers, dancers & writers, with the highlight of the week being Ceiliúradh na bPiobairí on the afternoon of Sunday 27 August...not to be missed!
Booking advised for all workshops and children's events. Call (043) 332 2386 or email corlea[at]opw[dot]ie
Click here to download their programme of events in PDF or PNG (image) format.
---
The Centre is also running the Kenagh's Hidden Heritage Photographic Challenge.
This competition challenges you to photograph the 'hidden' heritage of the Kenagh area.  The Corlea Trackway, The Clocktower, TheMosstown Gatesare the more familiar sites but what about the lesser know interesting places?.
Are you up to the challenge?
 Categories:
Junior Competition open to 8-18 years
Senior Competition open to 19+
 Prizes for the winning entry in both categories
Presentation of Prizes on Sunday 27th at Visitor Centre with display of entries received
Thursday 24/8 is the closing date. 1 entry per person please. Don't forget to title your entry.
---
TIMETABLE OF EVENTS:
Date & Time

Event

Age & advice

 Saturday 19/8,

3-4pm

Midir & Etain- An Irish Story of Love, Loss and Jealousy.  

 Learn more about this epic Celtic myth with Corlea Guides

Sunday 20/8

3-4.30pm

A Time to Meditate

Escape the stress of modern living and enjoy the peace and tranquillity of the raised bog.

TBC

Adults

Monday 21/8

Free day

 

Tuesday 22/8

11-12.15pm

Its A Bug's Life!

Meet the Bog Bugs. Dress for Mess

5 years+

with Adult

Tuesday 22/8

 2-2.30pm

Etain's Fairy Fantasy Workshop

 Design a fairy globe with fairy house etcart  & craft workshop

5 – 10 years.

With Adult

Wednesday 23/8

 11-12.15pm

Killers on the Bog (What's on the Menu?)

Are you brave enough to investigate Corlea's Carnivores with the help of the Corlea Guides? Dress for Mess 

5 years+

with Adult

Wednesday 23/8

2-3.30pm

Midir's Magic Cauldron

Discover what is hidden in the Cauldron?

Art Workshop and storytelling with Corlea Guides. Dress for Mess 

5-10 years

with adult

 

Wednesday 23/8

7pm

Comhcheangal!

A gathering of writers, poets, musicians, singers,dancers, artists and storytellers. Don't miss this entertaining evening.

Thursday 24/8

7pm

(to be confirmed)

The Living Bog-Raised Bog Restoration Project

 Ronan Casey explains the work being undertaken on the largest raised bog restoration project ever undertaken in Ireland.

Friday 25/8 & 

Saturday 26/8

Free day

Sunday 27/8

1-5pm

Ceol, Ceardaíocht agus Cultúr

An afternoon of Music, Craftwork and Cultureto end Heritage Week 2017.

Local craftspeople display their work

 Afternoon also includes Face Painting, Keangh Treasure Hunt, Tours of the Site, Bog Bites, Weapons Display

AND

Photographic display and prize-giving for the winners of the Kenagh's Hidden Heritage Photographic Challenge 

Sunday 27/8 

2pm

Ceiliúradh na bPiobairí

A rare gathering of  some of the country's foremost Uilleann Pipers to celebrate this uniquely Irish instrument. Learn the History of The Uilleann Pipes,also the craft of How Uilleann Pipes are Made